Monday – Thursday
4 to 9 p.m.
Friday – Sunday
11:30 A.M. to 9 P.M.
Although not required, reservations are recommended.
Portage
(269) 459-4242
Oshtemo
(269) 775-7242
A new month, a new Pay It Forward Cheesecake!
Chocolate Hazelnut Cheesecake
Grand Traverse Pie Co. whipped cheesecake, ganache, hazelnut syrup, chopped hazelnuts, confectioners' sugar, mint.

This month, $1 per Pay It Forward Cheesecake slice sold will be donated to Kalamazoo Loaves & Fishes; a local food bank whose mission is to feed our community via the 77 distribution sites throughout Kalamazoo County.

Kzoo Loaves & Fishes is facing major food shortages and need our help! In order to do our part, we'll be hosting a Food Drive throughout the month of January. Bring in 10 accepted food item donations and receive a coupon for a $1 beer OR free BRIX Soda product.
Jelly / Jam
Cereal
Canned Soup
Meals in a Box (e.g., Hamburger Helper)
Shelf-stable Almond or Rice Milk
Baking Mixes (e.g., Jiffy/Bisquick)
Ensure® or Similar Protein Drinks
Canned Meat
Shelf-stable  Tortillas
Granola Bars and Children's Snacks
Microwavable Foods
Special Diet Foods (e.g., Gluten-Free)
Amethyst Tryst
L42° Gin, Violet Syrup, Lemon Juice, Lime Juice, Soda, Lime.
Available thru Sunday, Sept. 25
Bourbon Lover's Starter Pack: Basic Witch Edition
Available at both locations. Limited supply.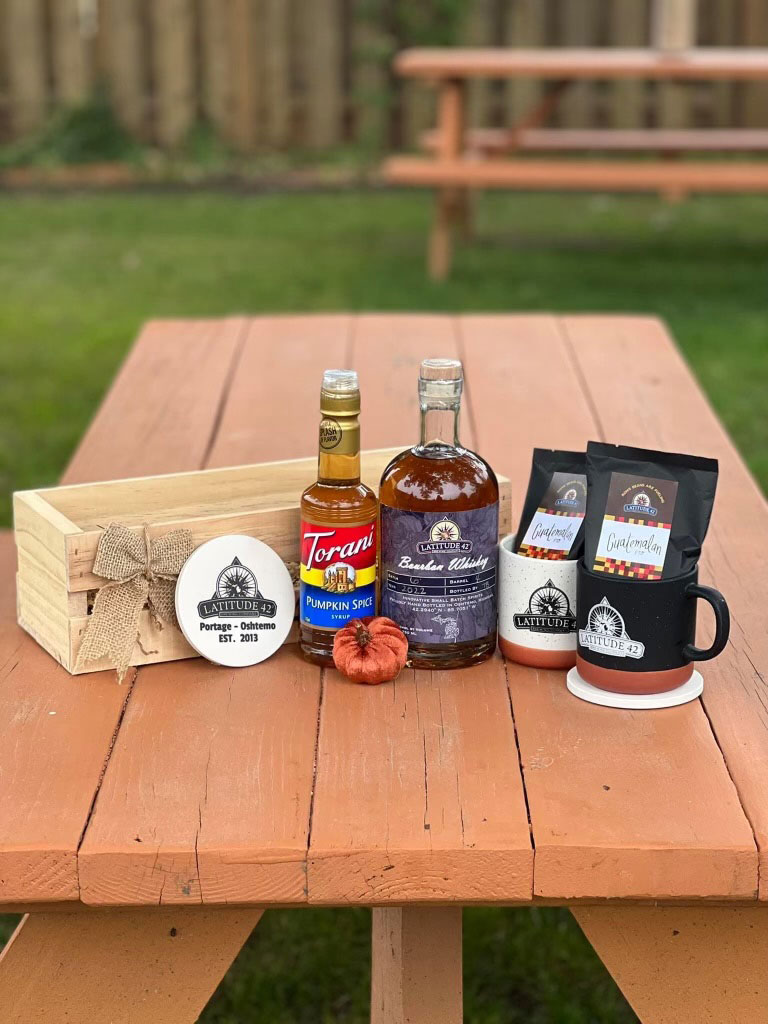 Consider the many options
When you are planning your next corporate party or special event, consider the many options at both of Latitude 42's locations.
$500 Sign-on Bonus
For Back of House Team Members
We are recruiting at both of L42° locations (Oshtemo & Portage).
$250 after 90 days and $250 after 180 days. Minimum of 4 shifts per week.
Wages can range from $12.50-$20 and we can be extremely competitive based on experience.
Stewards
Line cooks
Supervisor's in training
We can offer:
A flexible schedule
Great culture
Amazing products
Phenomenal people
Promotion from within
Gainful long-term employment
$30 six-packs OR two six-packs for $50 (Carry Out only)